My jewellery is organised according to its function:  Rings,  Necklaces and Pendants, Earrings and Brooches. But it is helpful to think of it in other categories:-
Versatile Jewellery:  Since it is my customers who give life to my jewellery I try to give choice in how it can be worn to suit their individual styles. I specialise in versatile jewellery:  much of my jewellery can be worn in different ways for different occasions or different times of day. Some pieces are reversible; some have removable or additional parts; some necklaces have a section that can be worn separately as a pendant or brooch;  some pendants become earrings. Earrings can be mix-and-match, and some  can transform instantly from discreet, understated, everyday wear into dramatic and eye-catching jewels for a glamorous evening or special date.
Matching Sets: I make matching sets of jewellery that share a common design. They usually include a necklace with a pendant/brooch and matching earrings;  rings can be made to match the set in the appropriate size. (Contact me.)
Classic Collection: Jewellery in my classic collection is timeless, elegant and traditional. It is appropriate to wear at any time in any place. It looks equally good worn with jeans and a sweater or a designer dress, at work, at home or out for the evening.
Contemporary Collection: These designs explore different concepts. They range from pure abstract minimalist shapes to dramatic innovative pieces using negative space, often with mobile elements that catch the light- and attention.
Themed Collections:  My newest collection which I am in the process of creating, is called Sea-Change. It will feature corals, pearls, amber and fossils from ancient oceans and coral seas. It is special because customers, if they wish, can choose to create their own necklace from a choice of pendants, a selection of beads and a variety of styles.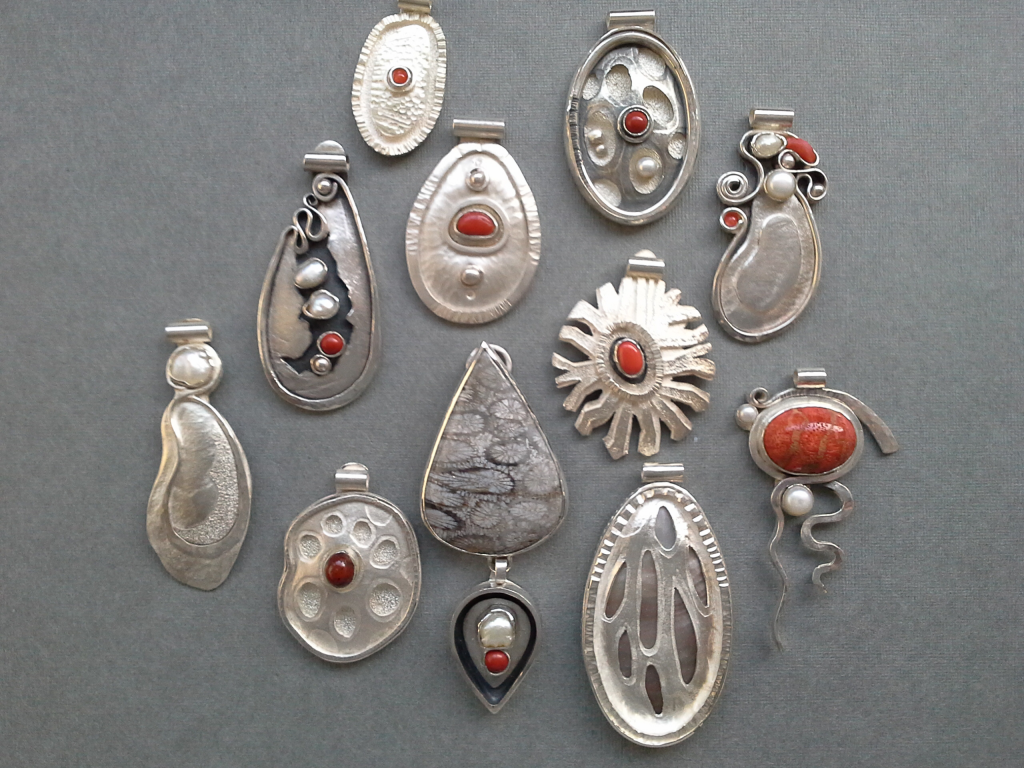 Ancient Treasures: I create a very few special jewels inspired by the work of ancient goldsmiths discovered in archaeological excavations in Egypt and Mesopotamia and the Classical world. Using high carat gold, fine silver, lapis lazuli, carnelian and other precious stones, I re-create this exceptionally beautiful jewellery in a modern way that retains its power to evoke the past.